With sales of smartphones exceeding 1 billion in 2014 it's no surprise that more people than ever are accessing websites via a mobile device (iPad, iPhone, Android phone or tablet) These are the same websites that we view on our desktop computers at work, or maybe our laptop at home. The same website that we view on a tablet while traveling.
Our experience of websites across different devices can differ greatly however. Some websites are made specifically for mobile phones and may look more like apps downloaded from the app store. Some websites look like a version of the desktop website but maybe narrower.
Google's drive for mobile-friendly websites
It's be widely publicised that Google want a good user experience for people who view websites on mobiles. They have even helpfully added a label to sites that meet the required criteria which includes, using text that is readable without zooming and "sizes content to the screen so users don't have to scroll horizontally or zoom"
You can read the whole blogpost here: http://googlewebmastercentral.blogspot.co.uk/2014/11/helping-users-find-mobile-friendly-pages.html and even test out your website here: https://www.google.com/webmasters/tools/mobile-friendly/
Helpfully the test renders your site in mobile form so you can easily see what other users would experience.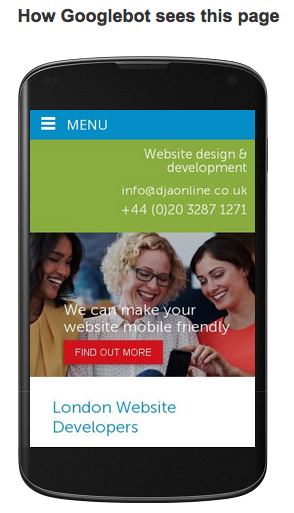 What is responsive website design?
You may have heard the term, responsive website design, but it may not have meant very much. After all it's just another bit of jargon, isn't it? What it does mean though is that a website responds to the device it's being viewed on. In it's simplest form, a website may shrink to fit the window of your iPhone. Or some elements may adapt, so a logo may be bigger, multiple coulmns wrap so content is more legible and the navigation alters to better work with touch rather than mouse control.
What we're talking about is a better user experience for people who want their web content to be delivered via the device of their choice. That's your audience. An audience who don't fit one particular profile of user.
What is my audience?
Here's some scenarios:
You're a recruiter sending job details to candidates during work hours
They're a candidate and cannot view job details on your work computer during office hours
Commuters targeted for consumer-based mailshots intended to be read during travel time
Your car requires exhaust or wheel repair while you're making a journey
Getting offers to concert and sports fans at an event
…and many more
In each of these situations, being able to view information on a mobile device is essential.
Isn't that an expensive extra?
Not at all. With so many websites being built with a template or theme, it's more than likely the basic features of your website could already work on mobile devices. The web pages may collapse gracefully into a mobile view. What we can do is make that view a much better experience by looking at how you want your website to work for your audience.
Think again about the scenarios above. How might your business benefit from responsive design? Call us today on 020 3287 1271, email responsive@djaonline.co.uk or fill out our handy form below. We can't wait to get the conversation started.